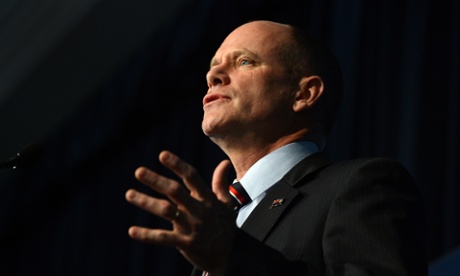 The Palmer United party leader, Clive Palmer, has accused Campbell Newman of wanting to "set up Gestapo in Queensland" after the premier enlisted his former army boss to oversee the government's crackdown on criminal bikie gangs.
"He wants the army to take control of the civilian population's lives," Palmer told AAP. "He thinks he wants to run the state like it's an army. That's all he knows, so everyone stands to attention when he asks them to."
Newman served under Bill Mellor, a retired brigadier, when he was in the army.
The former infantry platoon commander and army helicopter pilot, who took on violent warlords in Somalia in the 1990s, has been hired on a year-long contract as head of strategy for the crackdown, the Courier-Mail says.
He is acting as chief of the anti-bikie "strategic monitoring team" and is tasked with co-ordinating police enforcement and the security of government buildings after threats against government members.
The government has refused to reveal the salary being paid to Mellor, who had been working as a disaster recovery co-ordinator after cyclone Oswald hit Queensland in January.
Newman served under Mellor during his 12-year army career but a spokesman for the premier rejected suggestions of a "jobs for the boys" appointment.
Mellor said he had agreed to lead the crackdown because it was clear the state had a serious gangs problem, and the recent Gold Coast brawl involving dozens of bikies was proof of that.
"I was obviously concerned. It required a whole-of-government response and my job is to help co-ordinate just that. I think it's going pretty well," he told the paper.