Police: 9 dead after shooting between biker gangs in Texas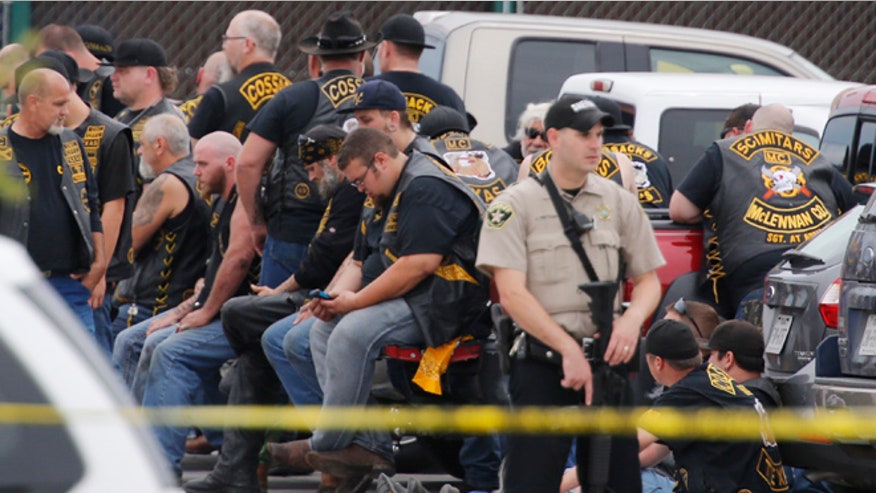 DEVELOPING: Police in Waco, Texas say nine people are dead and multiple people are injured after a shooting between rival biker gangs at a restaurant Sunday.
Waco police Sgt. W. Patrick Swanton told The Associated Press that eight people died at the scene of the shooting at the Twin Peaks restaurant about noon Sunday and another person died at a hospital. The severity of injuries to others was not immediately known and it is not clear if bystanders at the restaurant were among the injured.
At least 18 people were transferred to local hospitals with gunshot and stab wounds, KCEN reports.
Swanton said Department of Public Safety troopers, police officers from several cities and deputies from the McLennan County Sheriff's Office have surrounded the restaurant to secure the area.
"Officers were on scene when shooting started," the Waco Police Department posted on Facebook. "No officers have been injured."
Swanton told KWTX that the fight started in the restaurant with fists and feet, then escalated to chains, clubs and knives and then to gunfire. He added that police were aware that gang members were gathering at the restaurant.
Some of the officers fired on bikers as the shooting spilled from the restaurant into a busy parking lot, according to The Associated Press. Patrons and bystanders dove for cover.
"Please avoid the Central Texas Market Place as the area is NOT safe. Officers are continuing to arrest individuals coming to the scene with weapons," the Waco Police Department posted on Facebook. "This is not the time to sight see as we are dealing with very dangerous individuals."
Police also were heading to a nearby Flying J Truck stop because a large number of bikers were seen gathering there, KWTX reports.
A witness who asked not to be identified told KWTX that he had just finished eating lunch at the nearby Don Carlos Mexican Restaurant with his family and walked out into the parking lot when they heard gunshots and saw wounded people being taken from the scene.
"We crouched down in front of our pick-up truck because that was the only cover we had," the man said.
Swanton said authorities are concerned that gang members are moving to other parts of the city to continue the confrontation elsewhere.
McLennan County District Attorney Abel Reyna told KWTX earlier this month that law enforcement was aware of simmering conflicts between gangs that gathered at the restaurant.
The Associated Press contributed to this report.