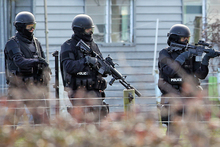 Police uncovered drugs and firearms in a raid on the Outlaws' Motorcycle Club's headquarters in Napier yesterday.
Executing a search warrant about 11am, police said they discovered methamphetamine, cannabis and three firearms.
A Napier man who witnessed the raid unfold described seeing armed officers scale the fence of the compound on ladders with their guns drawn. The property, on Kenny Ave in Ahuriri, is surrounded by high fences painted in camouflage colours.
"About 10 AOS officers were outside the section with ladders and that, making sure that no one could get out and there were about 10 of them inside the section making sure the site was safe before detectives went in."
The property was huge, he said, with shipping containers and sheds.
Hawkes Bay CIB Detective Senior Sergeant Dave de Lange said police were executing a drugs search warrant and had used the AOS to gain entry to the property. He expected to know today if there were any arrests.
Police said methamphetamine, cannabis, a handgun and two shotguns were found during the raid. The amount of methamphetamine and cannabis found had yet to be determined.
NZ gang expert Jarrod Gilbert said the Outlaws had operated since 1968.
"The Outlaw motorcycle clubs throughout New Zealand tend to be fairly uniform in nature," Mr Gilbert said.
"They're a hierarchical organisation, they tend to be small and tight and very disciplined and they organise themselves around motorcycles [in] that way they are a club, like any other."
The author of Patched: The History of Gangs in New Zealand, said it was important to note not all members of gangs were criminals, but some did have criminal elements.
"They're almost always painted as being an organised criminal group who sit around with a boss with a gavel. In reality, it just doesn't work like that."