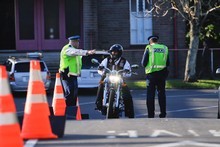 A civil liberties lawyer says police went too far over the weekend when checking residents in an Auckland street where a Hells Angels gathering was being held.
Brentwood Avenue residents say they were photographed and asked for their address, name, date of birth and job.
Barrister Michael Bott says most New Zealanders would regard it as repugnant.
"Because you live on a street that somehow the police take it upon themselves to subject you to an intrusive interrogation to stop you going to and from your homes which you have a lawful right of access."
Mr Bott says police have the power to ask your name and address but to go beyond that and ask about your occupation and the purpose of your visit, is disgusting.