Behind the "bad ass exterior", Shane Bullock will be remembered by loved ones as the cuddly family man who lived life to the fullest.
The death of the former Hells Angels' Whanganui president came as a shock to many on Monday.
The 51-year-old was rushed to hospital with a broken sternum and pelvis after he was hit by a car while riding his Big Bessy motorbike in Porirua on Thursday morning.
Read more: Editorial: Fallen Hells Angel earned much respect
On Saturday, he was in a serious but stable condition, and was due for surgery on Tuesday. But about 11am on Monday, Bullock died at Wellington Hospital with family gathered.
Jack said his father was still quite young but had lived his life to the fullest.
"Dad will always be remembered as the big cuddly family guy and as a big bad ass from Hells Angels - that was his life and that was who he was."
Bullock had been a part of Hells Angels for more than 26 years, and was president of the gang for a portion of that time.
Bullock's daughter, Hazel, said she couldn't imagine life without her dad.
"He was the best dad that anyone could imagine."
Jack said Hazy will always be "Dad's little princess".
Bullock's great-grandfather founded Bullock Bridge Builders Limited.
Jack said in Bullock's early days he spent a lot of his time working in the family business.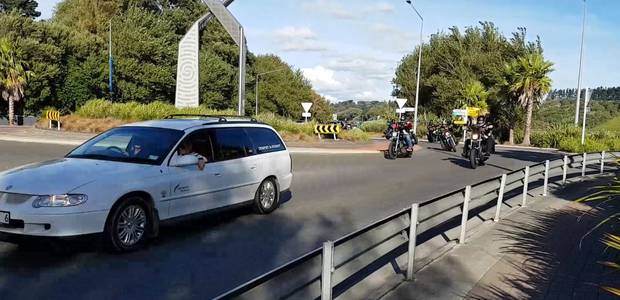 He also shared a love for motorbikes and ran a club which stretched right across New Zealand.
"He was a mean rider, he rode hard," Jack said.
Bullock's death has sent ripples far beyond New Zealand's borders, let alone beyond Whanganui.
"He spent more than 25 years overseas and has connections all over the world. His funeral will be pretty massive," Jack said.
The details of Bullock's funeral were yet to be confirmed but the Wanganui Chronicle understood it would be held in Whanganui over the weekend.