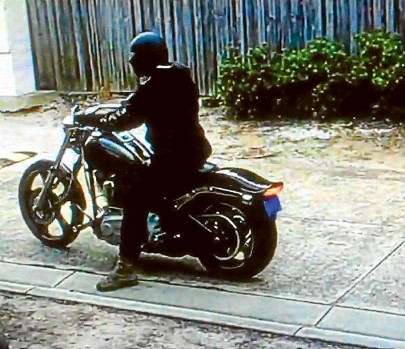 A BIKIE on a Harley Davidson is terrorising residents at a Karingal apartment block while making demands for cash, Frankston detectives say.
The man, wearing a face mask, helmet, leathers and with his bike's number plate covered, has three times ridden down the driveway, calling out that a certain resident owes him money. He appears to have a handgun strapped to his thigh.
Senior Constable Anthony Smith, of Frankston CIU, said a CCTV camera at the property captures the action.
On 18 February a female resident at the property confronted the bikie and told him the man he was looking for no longer lived there, and to go away.
The bikie is described as late 30s/early 40s, 172cm tall, medium build, wearing Army style boots and sunglasses.
Anyone with information is urged to call Senior Constable Smith, Frankston CIU, 1 800 bite me