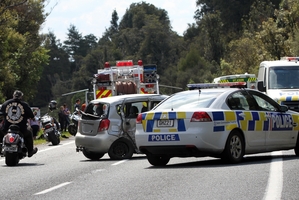 The way a group of motorcyclists was riding prior to a fatal crash was of concern to other motorists, police have been told.
Rotorua man Dixon Hona, 50, died in a multiple vehicle crash near the city on Saturday.
Mr Hona was the rider of one of four motorcycles that collided with a car at 2.35pm on State Highway Five, Mamaku.
The circumstances surrounding the crash are still being investigated.
"Motorcycle riders need to remember not to take risks on the roads and overtake only when they way is clear. Take extra care when riding in groups,'' said Senior Sergeant Fane Troy, Taupo Road Policing Group.
Police would like to hear from anyone who witnessed a large number of motorcycles travelling in a group along State Highway Five between Rotorua and Tirau on Saturday afternoon.
"Any motorists who witnessed these motorcyclists need to contact the Police as we have received information that their riding prior to the crash was of concern to other road users,'' Senior Sergeant Fane Troy said.
Anyone with information or who witnessed the crash please contact Senior Sergeant Fane Troy at Taupo Police on
The crash happened about 5km east of Fitzgerald Glade.
The Rotorua Daily Post understands the bikers were taking part in a "memorial run" in which they travelled to different urupa (cemeteries) around the region paying tribute to fellow bike enthusiasts who had died. Police said a vehicle travelling in the opposite direction collided with the motorcyclists.
Mr Hona died at the scene.
Friends and relatives have expressed their shock and sympathy on Facebook.
Tributes included: "Words can't even explain how heart breaking this moment in time is. It's just absolutely devastating news to hear"; "I am heartbroken to hear such a beautiful soul is gone, my love to you all"; "deepest sympathies to your loss of a amazing warm soul" and "Its time to make more effort to spend time with family because in a blink they can be gone".