Police say it was "inevitable" the Comanchero gang would open a chapter in New Zealand after 14 patched members deported from Australia.
Musclebound and riding gold-plated motorcycles, Australia's most dangerous gang have made a bold statement about "growing stronger and stronger" in New Zealand.
There have been 14 patched members of the Comancheros - whose former president Mick Hawi was gunned down in cold blood this week - deported to New Zealand under harsh immigration laws introduced in Australia.
They are among the hundreds of deportees, nicknamed "501s" because of the section of the immigration law created by Australian politician Peter Dutton, removed on "good character" grounds and sent to New Zealand where they were born.
For several years, the police have warned of how these "Kiwis" - many of whom had lived in Australia for all their lives - would return to commit crimes and bolster the professionalism of the New Zealand underworld.
Chapters of other Australian motorcycle gangs, the Rebels and the Bandidos, have been established in New Zealand for some time and involved in the lucrative drug industry.
But their bitter rivals, the Comanchero MC, have officially made their presence known in new photographs obtained by the Herald on Sunday.
Police say the establishment of a New Zealand chapter of motorcycle gang, considered the most dangerous in Australia, is "concerning" and anticipate the Comancheros could cause friction with other gangs.
Wearing the black and gold colours of the outlaw club which state "Comanchero New Zealand, six members are standing beside, or sitting on, gold-plated motorcycles in a series of photographs posted on social media.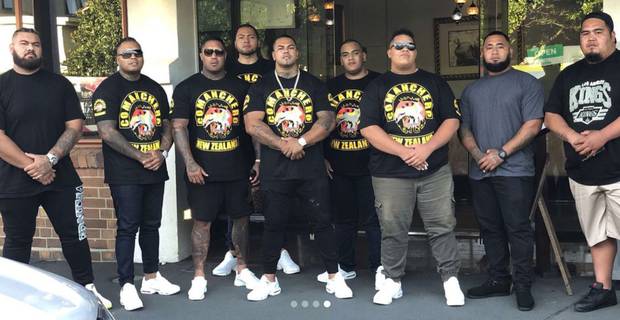 "All done and sworn in...welcome aboard to my brothers in New Zealand," says the Instagram post by an Australian member of the Comancheros.
"Another Comanchero chapter opened up. We growing stronger and stronger.
One of the Comanchero members in the photographs is Pasilika Naufahu, a senior member of the gang in Sydney, who was deported to New Zealand two years ago.
He was caught up in a bar brawl, along with his brother, within 24 hours of arriving in New Zealand.
"The night just went bad. I apologise to all the staff members there and anyone who got hit," Pasilika told TVNZ.
"I don't want to be here. I'm forced to call this country home. I gave 27 years to Australia."
Pasilika warned others deported from Australia under the tough immigration law could be forced into a life of crime, if they had no support in New Zealand.
It's a fear also held by police who estimated at least 1000 criminals would be deported to New Zealand between 2015 and 2020.
Murderers and rapists are among those already back in the country.
"A conservative estimate of the cost of criminal offending by deportees arriving in New Zealand over the next five years is in excess of $100 million," according to a 2015 police intelligence report released under the Official Information Act.
Of those already back in New Zealand, 55 per cent had committed crimes within two years of arrival.
The report noted a number of deportees had spent most of their lives in Australia, with limited links or support in New Zealand.
Many had mental health or drug and alcohol addictions, which combined with anger about being separated from their lives, increased the risk of criminal or anti-social behaviour.
A second report, dated January 2017, anticipated 200 members of Australian gangs which did not have chapters in New Zealand would be deported in the next two years.
These included patched members of the Comanchero, Lone Wolf, Finks, Mongols, Notorious and Descendants motorcycle clubs.
Police sources told the Herald on Sunday there were genuine concerns about the sophistication - and violence - of the Australian gangs who were muscling into New Zealand and the drug trade.
Just this week, the ex-president of the Comancheros, Mahmoud "Mick" Hawi, was fatally gunned down in a Sydney gym car-park.
Hawi had cheated death before, surviving a hail of bullets in 2007, and the audacious shooting this week is rumoured to be a revenge hit.
Police are hunting for two masked men who fled the scene and the violence, in broad daylight, revived memories of Sydney's infamous bikie wars in 2009 following a brawl in Sydney airport.
A Hells Angel was clubbed to death with a 17kg metal bollard, triggering a series of retribution attacks, drive-by shootings and fire bombings across the city.
Hawi was convicted of murder for shooting a rival gang member but this was later overturned and he pleaded guilty to manslaughter.
It's the predilection of Australian gangs to use firearms in turf wars against one another, in public where innocent witnesses could be hurt, which has police officers in New Zealand worried.
Detective Superintendent Greg Williams, the head of the National Organised Crime Group, yesterday confirmed the Comancheros had formed a New Zealand chapter in the "last week or so".
A New Zealand branch was "inevitable", said Williams, as 14 Comanchero members had been deported from Australia where authorities considered the gang to be the most "extreme risk" of all the outlaw motorcycle clubs.
"It's concerning. Like the other Australian gangs, the Rebels and the Bandidos, we expect the Comancheros will attempt to establish themselves in the drug market within New Zealand," Williams told the Herald on Sunday.
He said the Comancheros appeared to be aligning themselves with the Mongrel Mob in the Waikato, as well as the Filthy Few in Tauranga.
Given some of the extreme violence between rival Australian gangs which can spill into the public, Williams acknowledged the potential for the same to happen here.
"The reality of gang life, whether it's seen by the public or not, is one of violence. When dealing with the gangs, we're finding people with all sorts of firearms," said Williams.
"And there is friction when gangs try to move into an established drug market. So there may be [violence] that comes out of this. To date, there hasn't been.
"It will be interesting to see what happens."
The Comanchero MC was founded in Sydney in 1966 with the motto "Always Comanchero, Comanchero Always" and has chapters across Australia as well as Russia, Spain and Bosnia.
The club is most infamous for the 1984 "Milperra Massacre" in which 7 people were killed - including an innocent 14-year-old girl - and 28 injured during a 10 minute shootout with the rival Bandidos gang in a Sydney turf war.
\