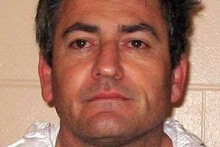 The high-ranking Head Hunters charged with possession of more than $1 million of methamphetamine can now be named.
Eleven members and associates of the motorcycle gang, including the recently elected president of the West Auckland chapter, have appeared in the Waitakere District Court.
David James Dunn, 46, who took over as president last year from Dave Smith - who died soon after - was arrested last week after police raided the gang's headquarters in View Rd, Henderson.
He has been charged with possession for supply and remanded in custody.
More than 1kg of methamphetamine valued at more than $1 million was found in the clubrooms,
Dunn has a colourful history.
The senior Head Hunter got a police call-taker with access to the national intelligence system to leak sensitive information until she was caught in 2006.
A year later, Dunn began contract work on the driveway of a $6 million Herne Bay home owned by property developer Lynne Carter. He turned up for work but did not leave for months. At one stage her Ferrari vanished - a practice known as "taxing".
Another Head Hunter seen at the Argyle St home was Wayne Doyle, president of the East Chapter based in Ellerslie.
Dunn and Doyle are founding trustees of the That Was Then, This Is Now charitable trust which runs Fight Night events at the Marua Rd headquarters.
The third trustee is Lee Francis Bell, 46, who was also charged with possession for supply in the West Auckland raid last week.
Others arrested include Cain McFarland, 29, Craig Patterson, 49, Hemi Taramoeroa, 35, Nathan Hemana, 35, Christopher Morris, 50, Mark Barnes, 35, Anthony Neho, 46, as well as two younger women, Sorel Wichman, 20, and Candice Maloney, 24.
Morris, also known as "One Eye", is the father of Connor Morris - the boyfriend of Millie Elder.
Inspector Gary Davey, the Waitakere area commander, said the seizure of 1kg of methamphetamine from the Head Hunters' West Auckland HQ was significant.
"This is an incredibly damaging drug and police remain committed to disrupting its distribution."
The arrests are unrelated to an 18-month inquiry in which police infiltrated the Red Devils in Nelson, a puppet gang for the Hell's Angels.
Deputy Commissioner Rob Pope said the undercover Red Devil was "welcomed into the fold" at the Hell's Angels pad in Mt Eden. Through the Hells Angels, undercover officers were also able to enter the Head Hunters pad.
The unprecedented intelligence gathered by police confirmed the links between different gangs in the organised crime structure.
Police arrested 28 people in the raids on the Red Devils and charged them with dealing drugs - including LSD, methamphetamine and Ecstasy - and being a member of an organised crime group.