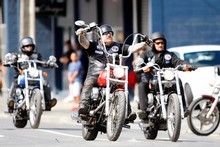 Police have seized cash, cannabis, computers, one shotgun and twenty-two people in a nationwide raid on the Rebels Motorcycle Club.
Most of the arrested Rebels' members were caught by police in New Plymouth and Northland following months of planning.
Detective Inspector Chris Bensemann (Field Crime Manager, Central District) said today's raids were a major blow to the Rebels, who claim to be a family-friendly and law-abiding motorbike club.
"This makes a mockery of their statements that they're a family gang,'' Bensemann said.
"I think what this shows is that their presence in New Zealand is purely motivated by criminal offending and their involvement in the distribution of methamphetamine.''
He said police have learned many lessons this year and are building on knowledge gained in earlier raids.
The Rebels are relatively new arrivals from Australia but have already attracted police attention on multiple occasions.
Today's operations were a sequel to Operation Stamp, which netted firearms, drugs, cash and over 30 arrests back in February.
Local Rebels' members have regular contact with their Australian colleagues, according to Bensemann.
He said prospective Rebels members should reconsider their career options.
"The message I'd pass on is if you're thinking of joining, think twice. Join them and you can expect the attention of Police.''
Bensemann said the operation would take methamphetamine off the streets and would be welcomed by drug-ravaged communities.
"What offends me about the Rebels in particular is that they're not restricted to selling drugs to adults. Those drugs make their way to our teenagers and young people.''
Rebels MC spokespeople in Australia were unavailable for comment this evening.